---
Wedding Centerpiece - How To Cut Costs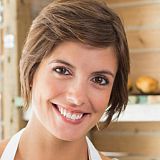 Posted By Deanna S.
---
Getting married is the best day of your life but it is also probably the most expensive. Often couples will put off getting married because of the costs involved or agree to tie the knot once they have saved enough money to do so.

The dress is considered one of the most important aspects of a wedding however some of the smaller effects can make just as big a statement as the dress its self

Once the wedding vows have been shared and the guests are ready to sit down and have enjoy wonderful food, they will begin to make note of the decorations, admiring the lay out of you wedding table and most importantly the wedding centerpiece.

One of the best ways to save money when deciding on your wedding centrepiece is to have a go at making your own. Keeping it simple and elegant will keep you within your budget and will also look stunning.

It is important that you make a mock one a good few weeks before the wedding day so that you are 100% sure that it looks right and you are happy with it. If you are making your own why not ask your friends and family to help out.

Your wedding centrepiece does not have to be flowers, you can try something unusual but keep in mind the time it takes to make and the time you have to do it, the more complicated the wedding centerpiece the longer it will take to create.

You can make you wedding centerpiece as personal as you like you could even consider providing your guests with the means to actually write down their thoughts and what they loved about the wedding day.

Wedding centerpieces can be extremely costly if you are having them made professionally so make sure you have a look at the resources you have around you and what you could do yourself. If you decide to buy flowers to arrange into a wedding centerpiece then make sure you buy it from a wholesaler to save money.

Another idea would be to use candles, not only are they romantic but they will look better and better as the day draws in and the evening entertainment begins. Floating candles are one of the safest as they are surrounded by water. You may need to check where your wedding reception is being held if they will allow this sort of wedding centerpiece.

Fruit and chocolate are also a great idea as they can be admired to begin with then eaten later on so nothing is wasted, it will also keep the children happy!.

Whether you decide to have your wedding centerpiece made for you or you make them yourself, it is a good idea to allow your self plenty of time to play with ideas before decided on the perfect wedding centerpiece.
Join Our Community!
Like what you see? Get a FREE account and start posting, sharing, and discovering more!